Name: POLLOCK, GEORGE
Initials: G
Nationality: United Kingdom
Rank: Private
Regiment/Service: 5th Dragoon Guards (Princess Charlotte of Wales's)
Unit Text: "B" Sqdn.
Age: 21
Date of Death: 26/03/1918
Service No: D/12307
Additional information: Son of Hugh and Maggie Helen Pollock (nee Dalglish), of 28, Ochil St., Tillicoultry, Clackmannanshire.
Casualty Type: Commonwealth War Dead
Grave/Memorial Reference: P. VII. F. 9A.
Cemetery: ST. SEVER CEMETERY EXTENSION, ROUEN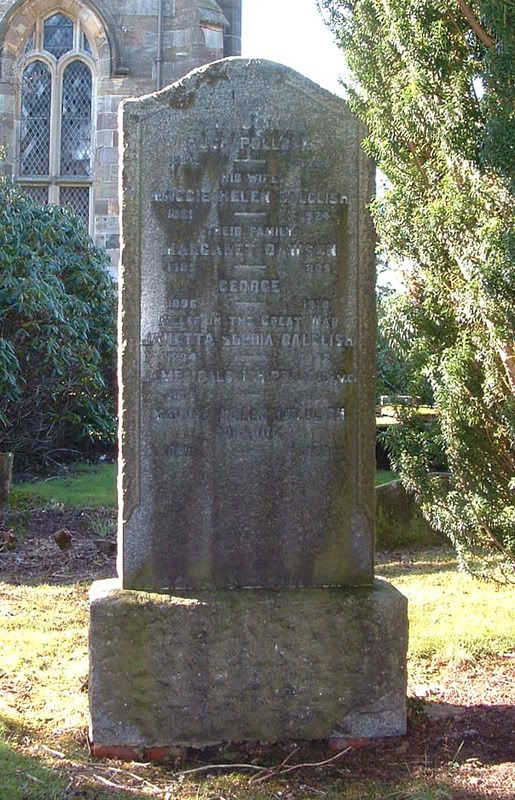 And his brother





JAMES DALGLISH POLLOCK

V.C., 1890 – 1958





The following articles are from Wikipedia:



He was 25 years old, and a corporal in the The Queen's Own Cameron Highlanders, British Army during the First World War when the following deed took place for which he was awarded the VC.





On 27 September 1915 near the Hohenzollern Redoubt, France, at about noon the enemy's bombers in superior numbers were successfully working up "Little Willie" Trench towards the Redoubt. Corporal Pollock, after obtaining permission, got out of the trench alone and walked along the top edge with complete disregard for danger, and compelled the enemy bombers to retire by bombing them from above. He was under heavy machine-gun fire the whole time, but contrived to hold up the progress of the Germans for an hour before he was at length wounded.





He was commissioned into the Cameron Highlanders in 1916 and left the Army in 1919 with the rank of Lieutenant.





James Pollock gained the VC for his outstanding bravery in saving his comrades in the Big Willie trench when it was infiltrated by german bombers. Just over two weeks leter his second cousin, James Lennox Dawson also won the VC in the same trenches at the same battle. His actions were remarkably similar. Dawson saved his colleagues in the trench by going over the top, under machine-gun fire, to roll away gas canisters that had been blown open by German shells. Both boys were 25 years of age and born within six months of each other in the small Scottish town of Tillicoultry. Both were feted back in Scotland and given the equivalent of a civic reception, James Pollock in Tillicoultry and James Dawson in Alloa, barely a week apart in December 1915.





His Victoria Cross is displayed at the Regimental Museum of Queens Own Highlanders (Fort George, Inverness-shire, Scotland).